Plan The Ultimate Bachelor Party in Myrtle Beach!
---
06/27/2023 Filed in: destinations
The Ultimate Guide to Planning a Myrtle Beach Bachelor Party (2023 Edition)
Imagine the ultimate bachelor party set against the backdrop of pristine beaches, adrenaline-pumping activities, and a vibrant nightlife scene. Myrtle Beach, nestled along the picturesque Grand Strand of South Carolina, promises all that and more.
Myrtle Beach is the ultimate East Coast party town. With its intoxicating mix of salty ocean breeze, moonlight on the ocean, and the dazzling lights and pulsating music of many popular places to dance the night away or just hang out, it's no wonder Myrtle Beach offers something for everyone when it comes to nightlife.
From exotic nightclubs, vibrant dance clubs and easy going sports bars, to outstanding beach bars with pools, there's plenty of options for anyone looking for a great time. In this guide, we'll take you through every aspect of planning the perfect Myrtle Beach bachelor party, from arrival to accommodations, activities, and everything in between. Are you ready to make memories that will last a lifetime?
What is Covered
Plan the perfect Myrtle Beach bachelor party: fly or drive in, explore local transportation options, enjoy daytime adventures and nightlife entertainment.
Choose from a variety of accommodation choices for your budget - hotels & resorts to vacation rentals and more! Consider timing your trip during off-peak season for savings.
Make it memorable with custom t-shirts, attending local events and purchasing travel insurance!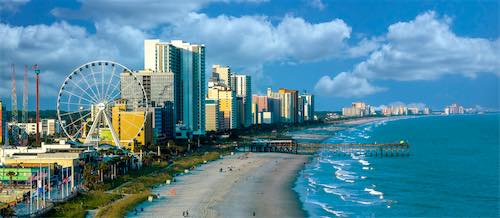 Flying into Myrtle Beach International Airport
Located just a short cab ride away from downtown Myrtle Beach, Myrtle Beach International Airport (MYR) offers convenient access to the heart of the action. Major airlines, such as Spirit Airlines, provide frequent flights during the spring and summer months, making it easy to find an affordable option for your bachelor party.
Upon arrival, hop aboard a Lyft or Uber at Exit Door 5 or choose from a variety of rental car companies like Thrifty, National, Hertz, and Avis to get you where you need to go.
Road Trip to Myrtle Beach
For those who prefer hitting the open road, a road trip to Myrtle Beach offers the opportunity to create unforgettable memories even before reaching your destination. Plan your route ahead of time, taking into consideration the best stops along the way, and ensure you have enough funds for gas and other expenses.
A road trip to Myrtle Beach not only allows you to explore the picturesque East Coast at your own pace, but also provides the flexibility to pack all the essentials for your bachelor party adventures.
Local Transportation
Once you've arrived in Myrtle Beach, there are plenty of options for getting around town during your bachelor party. Rent a bike or moped for a fun and eco-friendly way to explore, or opt for rideshares, shuttles, and taxis for a more traditional approach.
For larger groups, consider renting a party bus or limousine from companies like Carolina Limousine and Party Bus Myrtle Beach. And for a unique experience, don't miss the East Coast BrewBoat, a pedal-powered party boat that cruises the waters of Murrells Inlet while you enjoy your favorite drinks.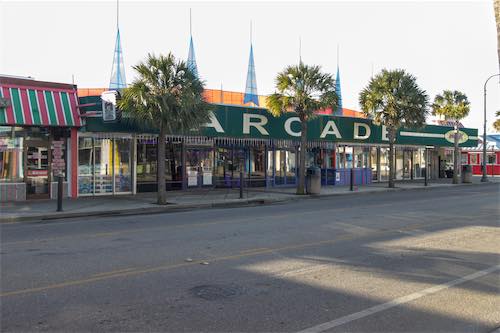 Arriving in Myrtle Beach
Myrtle Beach is easily accessible by air or car, making it an ideal destination for a bachelor party. Whether you're flying into Myrtle Beach International Airport or embarking on a road trip along the scenic East Coast, getting to the Grand Strand is a breeze.
Once you're in town, you'll have plenty of transportation options at your disposal, from rental cars and limousines to golf carts and party buses, ensuring you and the groom-to-be can explore the area's attractions with ease.
Places To Stay in Myrtle Beach
Daytime Adventures
Myrtle Beach offers a plethora of daytime activities that cater to every bachelor party's interests. From golfing excursions at top-notch courses to water activities along the stunning Atlantic Ocean, there's no shortage of fun to be had.
And for those looking for an adrenaline rush, Myrtle Beach Speedway and zip-lining adventures await. Here, we'll delve into the best daytime adventures to ensure your bachelor party is nothing short of unforgettable.
Golfing Excursions
With over a hundred challenging golf courses and three dozen mini-golf courses, Myrtle Beach is a golfer's paradise. World-class courses like TideWater Golf Club, Caledonia Golf & Fish Club, and The Dunes Golf & Beach Club offer an unparalleled golfing experience.
Don't forget to book your tee time in advance to secure your spot on these prestigious courses. And for a more casual golfing experience, check out TopGolf, a popular golf facility offering great food, drinks, and fun for the whole bachelor party crew.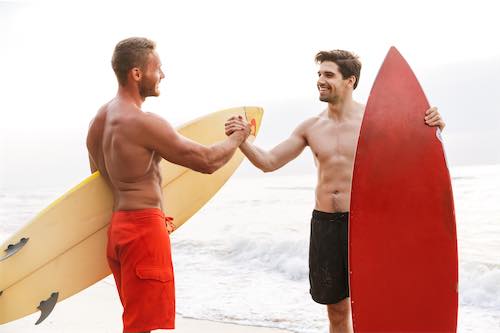 Water Activities
Myrtle Beach's prime location along the Grand Strand provides ample opportunities for water-based activities. Get your adrenaline pumping with jet skiing, parasailing, and banana boat rides, or explore the calmer waters with kayaking and paddleboarding.
Island Adventure Watersports offers wakesurfing, flyboarding, and tubing for thrill-seekers in your group. And for a one-of-a-kind experience, hop aboard the East Coast BrewBoat, a pedal-powered party boat that cruises the waters of Murrells Inlet while you enjoy your favorite drinks.
Adrenaline Rush
For those seeking an adrenaline rush during their Myrtle Beach bachelor party, look no further than the Surf Dreams Surf Camp. Here, you can experience the thrill of learning to surf firsthand. Learn how to not wipeout with group lessons.
For a unique aerial adventure, check out Myrtle Beach Zip Line Adventures, offering 600-foot-long zip lines that generate exhilarating 40-mph rides and free-falling experiences. These heart-pumping activities are sure to create unforgettable memories for your bachelor party.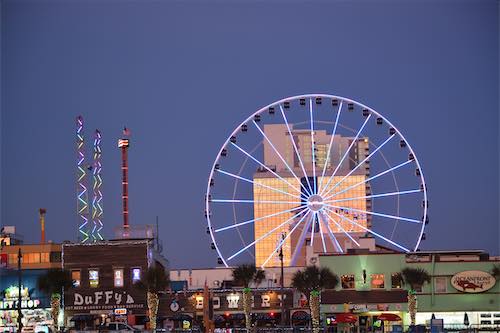 Nightlife Entertainment
As the sun sets, Myrtle Beach transforms into a nightlife hotspot, offering a wide array of bars, clubs, and adult entertainment venues to suit every bachelor party's preferences. There's the laid-back beach bar Pier 14, which is naturally off a pier on the Grand Strand. Be sure to grab a seafood roll with yellowfin poke tuna. RipTydz Oceanfront Restaurant has a banging rooftop bar with a fantastic view of the beach. Don't forget about the pulsating club scene; there's something for everyone.
In this section, we'll guide you through the best nightlife entertainment options in Myrtle Beach, ensuring a night filled with unforgettable memories.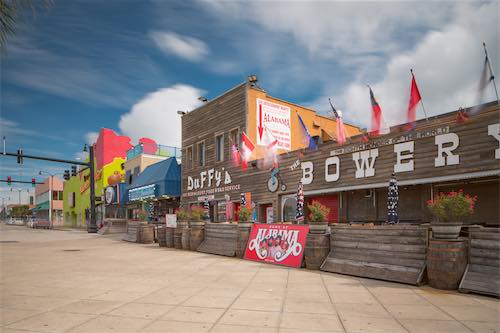 Bar Hopping
Bar hopping is a must-do activity for any Myrtle Beach bachelor party. With the plethora of bars available, you're spoilt for choice. Popular spots like Broadway at the Beach offer a diverse range of bars and restaurants within walking distance of each other, perfect for a night of exploration and great drinks. Enjoy unique atmosphere and live entertainment to keep the party going all night long
Don't miss out on must-visit bars like Wet Willies, with their luscious and bracing booze-filled slushes. The Bowery is where it's at if your gang is looking to drink to live music.
Clubbing Scene
The clubbing scene in Myrtle Beach is nothing short of electric. With an abundance of clubs featuring live music, DJs, and dancing, there's no shortage of entertainment for your bachelor party. Top clubs to check out include Celebrations Nightlife or Fat Harold's for shagging all night. Ocean Annie's is considered on the the best pool bars in Myrtle Beach. Dress code? Your swimwear is fine. 3001 Nightlife is an expansive complex with three clubs, one country music bar, one with dance hits from the 70s-90s, and one with current tunes. If your group is staying in North Myrtle Beach, then check out Duck's Nightlife.
Remember to dress the part, stay alert, and drink responsibly while hitting the dancefloor.
Adult Entertainment
No bachelor party is complete without a visit to some of Myrtle Beach's adult entertainment venues. The area boasts a variety of strip clubs and gentlemen's clubs, offering beautiful women, private VIP lounges, and unforgettable experiences for the groom-to-be and his best buds.
Top venues include Derriere's Gentlemen Club (BYOB), Treasure Club (private VIP lounges), and Masters Gentlemen's Club. If you are looking for bachelor party strippers to your rental, then call A Bare Affair Myrtle Beach and bring the club to you. Be sure to check out the unique offerings at each venue for an evening of adult entertainment tailored to your bachelor party's preferences.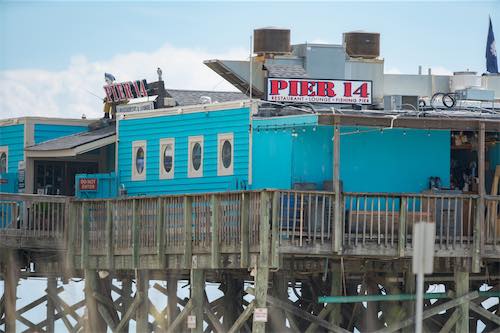 Dining Delights
From breakfast spots to fuel up for a day of adventure to dinner shows that offer an unforgettable dining experience, Myrtle Beach has a wealth of different restaurants to satisfy your group's culinary cravings.
In this section, we'll explore the best dining options in Myrtle Beach. Pursue our selection of restaurants to ensure that every meal is a memorable one.
Morning Fuel
Starting the day with a hearty breakfast is essential for any bachelor party, providing the energy needed to keep the celebrations going. The Grand Strand offers an array of top-rated breakfast spots, such as Johnny D's Waffles and Bakery, Woodhaven Pancake House, and Tupelo Honey.
From classic American fare to inventive brunch dishes, these establishments ensure you and your crew kick off the day on a high note.
Midday Munchies
As the day progresses, refuel with a delicious seafood lunch at one of Myrtle Beach's many popular midday eateries. The Sea Captains House has been open since 1962 and is located off N Ocean Blvd. Delight in their award-winning she crab soup and a sensational view of the ocean. Better yet, dine over the ocean with a meal at Pier 14 while you devour a po boy made with popcorn shrimp. Hook & Barrel offers sustainable seafood in an eco-conscious establishment. Stop by for happy hour to enjoy some Bloody Mary oyster shooters. Captain George's Seafood Restaurant offer an exceptional dining experience, complete with ocean views and mouthwatering dishes.
For a more casual lunch, consider grabbing a bite at Woodhaven Pancake House, known for its impressive selection of 71 different omelets.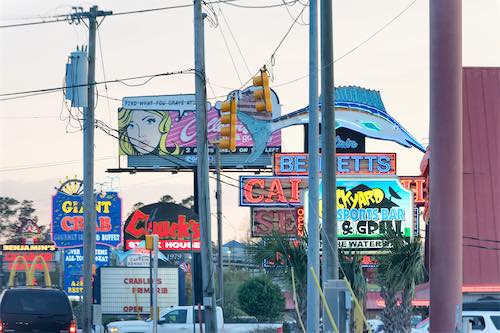 Evening Eats
As night falls, indulge in a memorable dinner with your bachelor party at one of Myrtle Beach's many dining establishments. For a unique dining experience, consider attending the Polynesian Fire Luau and Dinner Show, featuring fire dancers, acrobats, a feast, and an exotic drink.
New York Prime is the place for you guys seeking thick chunks of prime-quality beef. New York Prime is also where you will find shrimp large enough for its own zip code, and a wine list that is staggering in its scope. If you're looking for steak house options in North Myrtle Beach, then visit 21 Main for its award winning wine selection, delectable steaks and raw bar.
Other top-rated dinner spots include Fire & Smoke Gastropub for an elevated gastropub experience with dishes like the smoked wild boar and bison meatloaf. Simply Southern Smokehouse for an enormous buffet of delectable southern comfort food. No matter your culinary preferences, Myrtle Beach has the perfect evening eats to satisfy your appetite.
Accommodation Choices
Finding the perfect place to rest your head after a day of adventure is crucial for any Myrtle Beach bachelor party. The area offers a variety of accommodation options, including top-ranked hotels and resorts, vacation rentals, and budget-friendly stays.
In this section, we'll explore the best accommodations to suit every bachelor party's needs, ensuring a comfortable and enjoyable stay in Myrtle Beach.
Find Hotels in Myrtle Beach SC
Hotels & Resorts
For those seeking luxury and convenience, Myrtle Beach boasts a plethora of top-rated hotels and resorts. Blockade Runner, The Patricia Grand - a block or two from New York Prime - and Sea Crest Oceanfront Resort are all highly recommended hotel options, offering an array of amenities like private balconies, swimming pools, and on-site dining options.
These hotel options provide easy drive for access to the beach and other popular attractions, ensuring your bachelor party experience is seamless and enjoyable.
Vacation Rentals
Vacation rentals offer the perfect solution for larger bachelor party groups seeking a more intimate and personalized experience. Beach houses, private oases, and oceanfront condos are all available to rent for short-term stays in Myrtle Beach, providing the ideal setting for relaxation and bonding.
Be sure to research the various options available to find the perfect vacation rental that suits your bachelor party's needs and preferences.
Budget-Friendly Stays
For bachelor parties on a budget, Myrtle Beach offers a variety of cost-effective lodging options without compromising quality and comfort. Dunes Village Resort, Dayton House Resort, Coral Beach Resort & Suites, Sea Crest Oceanfront Resort, and Polynesian Beach & Golf Resort all provide excellent value for money.
With a range of amenities and convenient locations, these budget-friendly stays ensure you can focus on what truly matters: celebrating the groom-to-be and creating unforgettable memories.
Timing Your Trip
Timing is everything when it comes to planning the ultimate Myrtle Beach bachelor party. From the bustling summer months to the serene off-peak seasons, each time of year offers its own unique advantages.
In this section, we'll provide guidance on the best times to visit Myrtle Beach and the factors to consider when planning your trip, including weather and local events.
Prime Party Season
The prime party season in Myrtle Beach runs from June to August, offering the perfect combination of warm weather, vibrant nightlife, and a plethora of outdoor activities to keep your gang entertained. Golfing excursions, water activities, and adrenaline-pumping experiences await during these summer months, ensuring an unforgettable Myrtle Beach bachelor party experience.
However, be prepared for larger crowds and higher prices during this peak season.
Off-Peak Savings
For those looking to take advantage of off-peak savings, consider visiting Myrtle Beach during the autumn months or between late fall and early spring. During these times, you can enjoy outdoor activities at reduced prices, less crowded attractions, and discounted rates on accommodations.
October, in particular, offers the fall festival season and significantly lower rates, making it an ideal time to plan your bachelor party on a budget.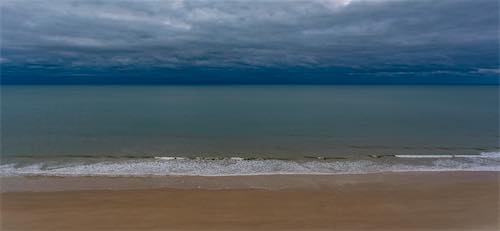 Weather Considerations
When planning your Myrtle Beach bachelor party, it's essential to consider the weather. With a humid subtropical climate, Myrtle Beach experiences hot summers and mild winters, with average summer temperatures around 80°F (27°C) and winter temperatures around 60°F (15°C).
While the prime party season offers the best beach weather, it's also important to be aware of the potential for hurricanes and plan accordingly. By considering weather factors, you can ensure a comfortable and enjoyable experience for your entire bachelor party.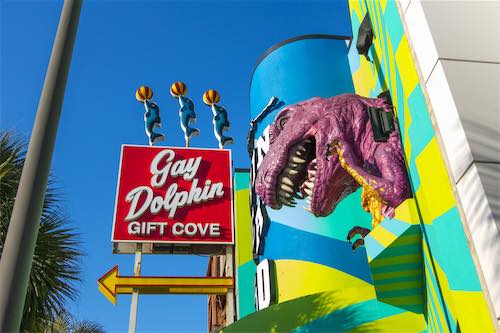 Extra Touches
To elevate your Myrtle Beach guy's weekend experience, consider incorporating some extra touches that go above and beyond the ordinary. Customized bachelor party t-shirts, attending local events, and purchasing travel insurance are all excellent ways to enhance your celebrations and create lasting memories.
In this section, we'll explore these additional touches and provide suggestions on how to incorporate them into your ultimate Myrtle Beach trip with your friends.
Custom T-Shirts
Creating customized bachelor party t-shirts is a fun and memorable way to commemorate your Myrtle Beach experience. Design your shirts with an online service like Custom Ink or visit a local t-shirt shop such as Coastal Printing, Carolina Tees, or Toucan Screenprinting & Embroidery.
These custom t-shirts not only serve as a unique keepsake but also help to create a sense of camaraderie among the bachelor party attendees.
Local Events
Myrtle Beach is home to a variety of local events that can add an extra layer of excitement to your bachelor party experience. Attend festivals like Horry County Fair, Wings over Myrtle Beach Air Show, Blue Crab Festival, MayFest, Carolina Country Music Festival, Conway Riverfest, and Beach, Boogie & BBQ Festival.
These events offer unique entertainment and opportunities to immerse yourself in the local culture, providing unforgettable experiences for your entire entourage.
Travel Insurance
Purchasing travel insurance is an essential extra touch for protecting your investment in your Myrtle Beach bachelor party. Travel insurance can cover expenses like trip cancellation, trip interruption, and emergency medical coverage, providing peace of mind for your entire group.
When selecting a plan, compare options and choose the coverage that best suits your needs and the duration of your trip. By investing in travel insurance, you can focus on creating unforgettable memories without worrying about potential unforeseen expenses.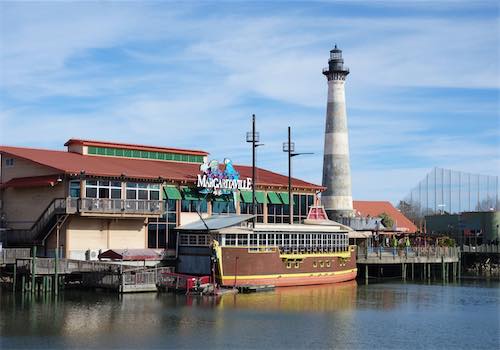 Summary
In conclusion, planning the ultimate Myrtle Beach bachelor party involves careful consideration of transportation, activities, lodging, dining, timing, and extra touches. By following this comprehensive guide, you'll ensure a memorable and unforgettable experience for the groom-to-be and his best buds. Now it's time to start planning the Myrtle Beach bachelor party of a lifetime.